Ibiza » Car Rental » hire Cala Tarida
A wide range of car hire in Cala Tarida (Ibiza)
Last update : 12/3/2013 10:44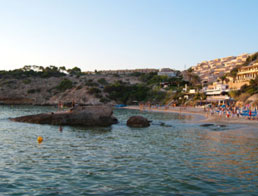 Car Hire in Cala Tarida Ibiza
Cala Tarida is common destination for those who come to enjoy the island, the beaches and sunsets. But communications are not as good as expected. If you get here but you need more freedom of movement, we offer a unique rental at very low prices.
Tips for car hire in Cala Tarida (Ibiza)
If you have not alkIlado the car when you arrive and want to enjoy Ibiza with all its magic, you'll need to rent one. Close to Cala Tarida are magical places you have to visit, such as Cala D 'Hort and incredible views of Es Vedra. But if you want to watch the sunrise or enjoy the clubs, you have to scroll to the other side of the island. Nothing better to do with the comfort of a car's rentler.
In Ibiza we seek the best models of rental cars
Ford Fiesta

Un buen coche para la opción más económica. Un alquiler barato que te va a permitir disfrutar de un desplazamiento único a un precio irresistible. Una opción muy a tener en cuenta.

X 4

X 3

Sí

Ford Focus

Más espacio y capacidad para cinco personas encontramos en este modelo. Dentro de su gama podremos optar por la versión de gasolina o diesel, la que mejor se adapte a nuestras necesidades.

X 5

X 4

Sí

Peugeot 307

El aspecto deportivo de este vehículo lo convierten en un aliciente más para el alquiler. En su versión de cuatro puertas, la comodidad y el buen manejo te serán de utilidad en tus desplazamientos.

X 5

X 4

Sí

Citroen C4 1.6

Para los que encuentran en el espacio una opción indispensable, este turimos familiar le asegura un buen rendimiento y una alta capacidad. El equipamiento no le dejará indiferente.

X 5

X 5

Sí

Citroen C5 2.0

Tambien el monovolumen está presente en nuestras carreteras. Amplios espacios y una gran comodidad que se agradece a la vuelta de nuestro destino.

X 5

X 5

Sí

Peugeot 607

Para los que buscan la excelencia al conducir, este coche les resultará sorprendente. La amplitud y la estabilidad de un modelo único en su clase. Un coche perfecto para disfrutarlo.

X 5

X 5

Sí

Ford Galaxy

Cuando con cinco plazas ya no es suficiente surge la necesidad del espacio y la seguridad. Un modelo que cumple perfectamente su cometido, a un precio realmente espectacular.

X 7

X 2/4

Sí
Warning about car hire in Cala Tarida (Ibiza)
Car hire Cala Tarida (Ibiza) is a division Soloibiza.com project. There are no fees to the customer or bank charges are made. Simply brokers looking for companies working in Cala Tarida (Ibiza) and offer their services in the ratio of rental price / best. If the direction of Soloibiza.comconsider at some point that the advertising company is not fulfilling its obligations to the client or find a better company as we have done in the past, we will delete such advertisers and we'll replace them to consider the best for the tourist. - Soloibiza . com
Other rentals