Ibiza » Car Rental » Car Rental Formentera
A wide range of car hire in Formentera
Last update : 16/3/2013 7:59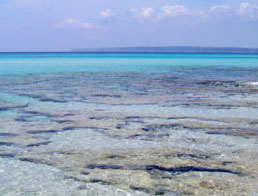 Car rental in Formentera port
A great vehicle at their disposal the most beautiful island in the Mediterranean Sea. Without doubt the most comfortable means of transport for their travel between the beautiful beaches of Formentera. A safe way to travel that allows you to explore the island and admire the beautiful landscapes that await her.
Tips for car hire in Formentera
The isaccount with lots of cliclomotores during the summer. Be especially careful as accidents of this type of vehicles are common. Renting a car allows you to also make your transfers regardless of their baggage on each trip and, of course, may be a greater number of occupants.
A great choice in car rental in Formentera
Ford Ka

Recorra Formentera a bordo de este coche de alquiler especialmente en pareja. Recuerde reservar con antelación pues es muy solicitado.

X 4

X 3

Sí

Renault Clio Diesel

El utilitario perfecto y de bajo consumo para sus desplazamientos. Una forma económica de trasladarse.

X 4

X 4

Sí

Ford Focus

Para los que necesitan más espacio os presentamos un coche de alquiler que cubrirá vuestras necesidades. Cinco cómodas plazas para cuando nos acompaña la familia.

X 5

X 4

Sí

Opel Meriva

Un vehículo compacto para disfrutar de Formentera como nunca. Cómodo y con cinco puertas, nunca un desplazamiento fue tan sencillo.

X 5

X 4

Sí

Peugeot 307 Station Wagon

Para quienes la capacidad de carga siempre supone un problema, el Peugeot 307 es una solución económica que le facilitará sus movimientos por Formentera.

X 5

X 4

Sí

Audi A4

Porque a todos nos gusta conducir, le presentamos el Audi A4 para dar un toque de elegancia a su presencia en la isla. Un vehículo para disfrutar de Formentera como nunca.

X 5

X 5

Sí

Peugeot 307 Cabrio

La opción perfecta para los amantes de la brisa del mar. Y de eso esta isla entiende mucho. Unas vacaciones que seguro que te puedes permitir.

X 4

X 2

Sí

Mercedes-Benz Vito

¿LLegas en grupo a Formentera y no te quieres separar ni un segundo?. Pues te lo ponemos muy fácil. La capacidad de carga y transporte de la Mercedes-Benz Vito no tiene igual.

X 9

X 4

Sí

Ford Galaxy

Mi pareja, los niños y los abuelos. Ya estamos todos. El coche para quienes cinco plazas hace tiempo que dejó de ser una opción.

X 7

X 2/4

Sí
Warning about car hire in Formentera
Formentera Car Rental is a division of Soloibiza.com project. There are no fees to the customer or bank charges are made. Just look for companies working in Formentera brokers and services offered in their rental relationship quality / price right. If the direction of constant Soloibiza.comiderasen at some point that companies do not comply with its obligations to the client or find a better company as we have done in the past, we will remove such companies and proceed to replace those who consider the best for the tourist. - Soloibiza. com
Other rentals