Ibiza » Car Rental » car rental Ibiza Town
A wide range of car hire in Ibiza Town
Last update : 12/3/2013 10:44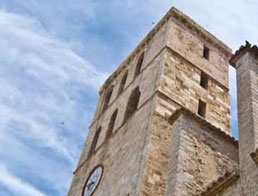 Car rental in Ibiza Town
If you are looking for a vehicle in the city of Ibiza we present an offer you can not refuse. The best rental brands put at your service a complete range of cars to suit all your needs. You can visit the hidden corners of the island freely.
Tips for car hire in Ibiza Town
If only going to get around the city of Ibiza tand recommend a little runabout. This will minimize parking problems on the go. A two-seater can be right if traveling alone or in pairs. If you come with your friends also then lose you will not want any detail of the island. Choose a car wide for comfort.
Wide range of car hire in Ibiza Town
Ford Ka

The car ideal for couples traveling to Ibiza. Comfortable, practical and easy to park. A perfect model

X 4

X 3

Yes

Renault Clio Diesel

The perfect rental for cheaper. A low-power model for living an island without limits.

X 4

X 4

Yes

Ford Focus

Ibiza is for everyone. And if you come to all, need a little space to move around the most unlikely places.

X 5

X 4

Yes

Opel Meriva

A model attractive, comfortable, compact. An ideal vehicle to move around the island without space problems.

X 5

X 4

Yes

Peugeot 307 station wagon

Need more space? For this is your car. With a large capacity, Station Wagon is designed to withstand a heavy load.

X 5 X 4 Yes

Audi A4

Class and comfort of this brand leaves little room for improvisation. A car make readyor for the more demanding and high quality.

Yes

X 5

X 5

Peugeot 307 Cabrio

Beaches, sun and sea breeze for those who want disfrutar from Ibiza Town to the fullest. Nobody is going to resist.

X 4

X 2

Yes

Mercedes-Benz Vito

When the capacity, elegancito and comfort are a must appear Mercedes to introduce a displacement of up to nine people.

X 9

X 4

Yes

Ford Galaxy

Large family? Up to seven people in a vehicle just enjoying the city of Ibiza. A great saving in time, fuel and economic development.

X 7

X 2/4

Yes
Warning about car hire in Ibiza Town
Car Rental Ibiza Town is a division of Soloibiza.com project. There are no fees to the customer or bank charges are made. Simply brokers looking for companies working in Ibiza Town and offer their services in the ratio of rental price / best. If the direction of constant Soloibiza.com iderasen at some point that the advertising company is not fulfilling its obligations to the client or find a better company as we have done in the past, we will delete such advertisers and we'll replace them to consider the best for the tourist. - Soloibiza . com
Other rentals