Ibiza » Car Rental
A wide range of car hire in Ibiza
Last update : 16/3/2013 7:59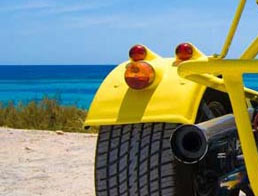 Car hire in Ibiza airport cheap
We present a wide range of vehicles for hire on the island. We looked for the best rates for companies operating on the island. Access to many of the attractions of the island can only do this if you have a vehicle for it. We recommend you choose your vehicle according to your needs.
Tips to Ibiza car hire
Please note your accommodation, if you have a parking lot near or have to park on the street, where parking space is much smaller. Paths in any case not usually exceed forty miles. If you come as a couple we recommend a car as small as possible. If traveling with one or two kids select a vehiclethe economic end. If traveling with a group think about the option as a cheaper option minivan rental of more than one vehicle.
CHOOSE FROM OUR EXTENSIVE FLEET OF CARS:
Ford Ka

Economical and easy to park. The perfect option for you and your partner. check availability and book your rental car now!

X 4

X 3

Yes

Renault Clio Diesel

A small car at a great price. Practical and economical. Fully equipped. Ideal for getting around.

X 4

X 4

Yes

Ford Fiesta

Economical. With the added comfort of air conditioning for those traffic jams within the city

X 4

X 3

Yes

Ford Focus

A great choice for getting about as a party - 4 door model making your trip around the island more comfortable at a fantastic rental price.

X 5

X 4

Yes

Peugeot 207

If you're looking for one of the best options. With 4 doors and air conditioning making it easier for you to get around.

X 5

X 4

Yes

Ford Fusion

Reserve this family car at an economical rate. Making it the ideal option to enjoy those beach trips and every moment of your stay.

X 5

X 4

Yes

Ford Focus Diesel

Taking a short break to the white island with the family? Then this compact model is the car for you. A good choice for travelling around the island and visiting out of the way places.

X 5

X 4

Yes

Peugeot 307

One of the most economical options if you're looking for a family car. Compact and ideal for all the family.

X 5

X 4

Yes

Opel Meriva

A magnificant 4 door option. With this model your comfort is assured.

X 5

X 4

Yes

Citroen C4 1.6

The perfect option for the family. A compact 4 door model ensuring enjoyment and comfort while exploring the island.

X 5

X 5

Yes

Peugeot 307 Station Wagon

Need a good sized boot? This is the ideal choice. A very spacious car at a great rate.

X 5

X 4

Yes

Opel Vectra

A little extra space is always welcome. Renting a car from this select range is always a great option.

X 5

X 4

Yes

Opel Zafira

You can be assured of maximum comfort renting this spacious people carrier

X 5

X 4

Yes

Citroen C5 2.0

With the convenience of 4 doors enjoy the spaciousness of this family car

X 5

X 5

Yes

Audi A4

If you enjoy driving why not combine quality and spaciousness?

X 5

X 5

Yes

Peugeot 307 Cabrio

A very different option. Enjoy the sensation of freedom Ibiza offers. On your own or accompanied, the perfect choice for the perfect holiday.

X 4

X 2

Yes

Peugeot 607

A great car, even for the most demanding client. Spaciousness and comfort for the most enjoyable holiday

X 5

X 5

Yes

Alfa Romeo 159

For those of you looking for a car with that extra space this model provides the perfect solution.

X 5

X 4

Yes

Mercedes-Benz Vito

Four couples enjoying Ibiza? Two families? Save time and money getting around Ibiza. With a capacity of up to 8 people this people carrier is the ideal choice for those of you travelling in a group.

X 9

X 4

Yes

Ford Galaxy

For those of you travelling as a family or a group of friends this 7 seater people carrier offers the ultimate in comfort.

X 7

X 2/4

Yes
About car hire in Ibiza
Ibiza Car Hire is a part of the project SOLOIBIZA.COM. We do not charge commission or any bank fees. Our service deals with companies which provide quality service/standards at affordable and competitive prices. At any time should we consider a company no longer meets our criteria they will not appear, or be part of, SOLOIBIZA.COM. Our primary consideration is to provide the best possible service to our customers.- Soloibiza.com
Other rentals