Ibiza » Car Rental » car hire Menorca
The best car hire in Menorca
Last update : 12/3/2013 10:44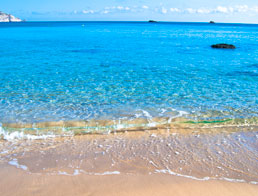 Car hire Menorca airport cheap
The best option for exploring the coast and inland from the coast of Menorca is, without doubt, get a rental car. With more than seventy officers beaches so only at our own transport will be able to go more than two hundred kilometers of the coast proflíficas on beaches and small coves.
Tips for car hire in Menorca
As in the rest of Ireland, the largest influx of visitors occurs during the summer months. Avoid last minute bookings. Renting in less than a week of his arrival may cause a serious increase in car rental. Choose a car that fits your needs, the number of occupants and a trunk line with their luggage.
The best cars at the cheapest price in Menorca Airport
Ford Ka

The most economical range to move around Menorca. Find the lowest prices on the market with our mini class.

X 4 X 3 Yes

Renault Clio Diesel

If you plan to travel around the island may be a good time to save on fuel. The diesel version of this car can be a significant savings if you make many kilometers.

X 4 X 4 Yes

Ford Fiesta

If you need a large boot and a little more performance, we recommend going through this utility. One of the cars more manageable market.

X 4 X 3 Yes

Ford Focus

There's nothing like the pleasure of our occupants go down your door and avoid hassles. Thanks for your four doors.

X 5 X 4 Yes

Ford Fusion

Book Ibiza family tourism a very affordable price. A unique option for every beach or enjoy every moment.

X 5 X 4 Yes

Ford Focus Diesel

Five occupants and much road ahead. Driving pleasure in a big car with ease. A diesel engine which responds to any expectation

X 5 X 4 Yes

Opel Meriva

Spaciousness, comfort, power and efficiency. Four features that make this compact in a favorite for tourists. Its wide field of view is perfect to not miss a detail.

X 5 X 4 Yes

Peugeot 307 Station Wagon

Perfect for those who travel with the kitchen sink. A stunning boot to make journeys in great comfort.

X 5 X 4 Yes

Opel Zafira

This vehicle is not a minivan. It is a perfect combination of space and comfort. One car Rated security and high performance.

X 5 X 4 Yes

Audi A4

Little need be said about this vehicle. We all know the dramatic lines that house their cars Audi prints coupled with a high quality interior and exterior.

X 5 X 5 Yes

Peugeot 307 Cabrio

Perhaps the best option to visit Menorca if traveling solo. Enjoy the sun and the air of the island of Menorca is priceless. For everything else, the convertible option.

X 4 X 2 Yes

Mercedes-Benz Vito

A classic in transporting small groups. Power, comfort and the hallmark of the best German brand. A treat for those who travel within.

X 9 X 4 Yes
Note about the car hire in Menorca
Car Rental Menorca
is a division Soloibiza.com project.

Our search engine does not add fees or make other additional bank charges.

We

work with leading brokers adjusting prices to Menorca

. Our partners offer a significant price / performance ratio. Your opinion is important to us. If If Soloibiza.com finds any company that would improve

existing conditions would realize the necessary changes providers looking to improve the service in our pages.

- Soloibiza.com
Other rentals