Ibiza » Car Rental » Car Rental Playa d'en Bossa
A wide range of car rental in Playa d'en Bossa (Ibiza)
Last update : 12/3/2013 10:44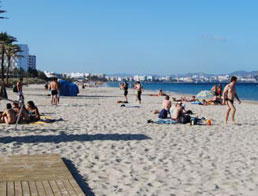 Car rental in Playa d'en Bossa Ibiza
Playa d'en Bossa is a tourist place where thousands of visitors enjoy their holidays halfway between the airport, the city of Ibiza and the largest leisure center on the island. If you prefer to pick up your vehicle with ease, once come to an accommodation, we present a wide range.
Tips for car rental in Playa d'en Bossa (Ibiza)
Despite being one of the improvedr releases Ibiza, Playa d 'en Bossa is during the summer a wide saturation of its regular line service. If you want to get around the island will give you peace of mind that your own vehicle, we recommend an assorted list of options. The parking in this area is not usually present major problems, provided they do not go near the bar at sunset Bora Bora. Still, find parking at no great distance.
In Playa d'en Bossa we bring the best in car hire
Ford Ka

El modelo más económico para desplazamientos cortos, sólo o en pareja. No necesitarás grandes espacios para aparcar y tu libertad de movimiento será total.

X 4

X 3

Sí

Ford Fiesta

Otro coche económico que te permitirá moverte a tu aire. Cuatro plazas y un gran equipamiento para que no te falte de nada al recorrer las carreteras de Ibiza.

X 4

X 3

Sí

Ford Focus Diesel

Las ventajas de un gran coche unida a la economía del diesel. Si vas a moverte mucho por Ibiza tal vez deberías pensar en el consumo. Un gran alquiler para quienes buscan sacar partido a sus vacaciones.

X 5

X 4

Sí

Citroen C4 1.6

En la categoría de compactos algunos coches destacan por sí solos. Cuatro puertas para cinco plazas y una gran potencia. El equipamiento incluye lo necesario para no perderte una.

X 5

X 5

Sí

Opel Vectra

Si prefieres los coches con amplios espacios y una gran versatilidad en su conducción, igual éste puede ser tu modelo a elegir. Un vehículo que no escapa a la vista.

X 5

X 4

Sí

Audi A4

Los coches de alta gama tienen algo especial. Y que os vamos a contar de éste. ¿Os gusta conducir? Pues no pasaréis desapercibidos al volante de este devorador de carreteras.

X 5

X 5

Sí

Peugeot 307 Cabrio

Una de las opciones más utilizadas por quienes buscan el placer de mirar y ser mirados. A nadie deja indistinta la opcíon Cabrio de cualquier vehículo. De éste, mucho menos.

X 4

X 2

Sí

Mercedes-Benz Vito

El gran clásico para grupos de hasta nueve personas. Elegante, potente e increíblemente cómodo, respaldado por una marca símbolo de calidad. Una opción perfecta para el alquiler.

X 9

X 4

Sí
Warning about car rentals in Playa d'en Bossa
Car Rental Playa d'en Bossa (Ibiza) is a division of Soloibiza.com project. There are no fees to the customer or bank charges are made. Simply brokers looking for companies working in Playa d'en Bossa (Ibiza) and offer their services in the ratio of rental price / best. So if the direction ofloibiza.com consider at some point that the advertising company is not fulfilling its obligations to the client or find a better company as we have done in the past, we will delete such advertisers and we'll replace them to consider the best for tourists . - Soloibiza.com
Other rentals