Ibiza » Car Rental » Car Rental San Miguel
Incredible prices on car rental in San Miguel (Ibiza)
Last update : 12/3/2013 10:44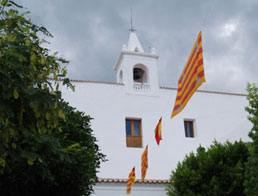 Car rental in San Miguel Ibiza
One of the most remote destinations of Ibiza can be found in San Miguel. Located north of the island, known for its beautiful landscape. Also be a rather inaccessible. If you are in this town and need to rent a car, we offer a wide range of models to suit your needs.
Tips for car rental in San Miguel (Ibiza).
San Miguel is a particularly quiet town. Just be active during the summer with the arrival of tourism. Still, you will not find parking difficulties. You will not find a bus connection, let alone, to suit your schedule and needs. We recommend renting a car in San Miguel if it did not. You can enjoy more freedom in their movements and ronduct any tourist route, including the Ibiza night.
In San Miguel looking for the best rental cars
Ford Ka

Un coche perfecto para pocos ocupantes. El modelo más económico de alquiler que ofrece grandes libertades para moverse por la isla. La facilidad a la hora de encontrar aparcamiento le sorprenderá.

X 4

X 3

Sí

Ford Focus

Cuando trasladarnos ya no es cuestión de pareja aparece este vehículo de grandes prestaciones y mayor volúmen. Todo un clásico de las carreteras de Ibiza.

X 5

X 4

Sí

Ford Fusion

Un gran coche para el desplazamiento urbano, y 'para moverse entre las distintas localidades llenas de sorpresas que nos esperan. Su aspecto deportivo lo hacen favorito en las listas de alquiler.

X 5

X 4

Sí

Peugeot 307 Station Wagon

Para quienes priman el espacio por encima de todo, este modelo le permitirá disfrutar de una amplitud de primera clase. La capacidad interior sorprende a propios y extraños.

X 5

X 4

Sí

Opel Vectra

La calidad al servicio del alquiler de coches. En una gama más elevada nos encontramos este turismo que no deja indiferente ni al conductor ni a sus ocupantes.

X 5

X 4

Sí

Peugeot 307 Cabrio

Cuando se une la línea deportiva a un techo descapotable las sensaciones al volante ya no son las mismas. Conducir por Ibiza a los mandos de este vehículo es una sensación al alcance de todos.

X 4

X 2

Sí

Peugeot 607

La calidad, la elegancia y la potencia se han unido en un coche único de gran capacidad y mayor rendimiento. Un coche para disfrutarlo mientras se conduce.

X 5

X 5

Sí

Ford Galaxy

Cuando cinco pasajeros es un número escaso encontramos un vehículo para familias numerosas. Siete plazas convierten a este coche en un modelo único en su especie.

X 7

X 2/4

Sí
Warning about car rentals in San Miguel (Ibiza)
Car Rental San Miguel (Ibiza) is a division Soloibiza.com project. There are no fees to the customer or bank charges are made. Simply brokers looking for companies working in San Miguel (Ibiza) and offer their services in the ratio of rental price / best. If the direction of co Soloibiza.comnsiderasen at some point that the advertising company is not fulfilling its obligations to the client or find a better company as we have done in the past, we will delete such advertisers and we'll replace them to consider the best for the tourist. - Soloibiza . com
Other rentals